The future of wildlife is in our hands!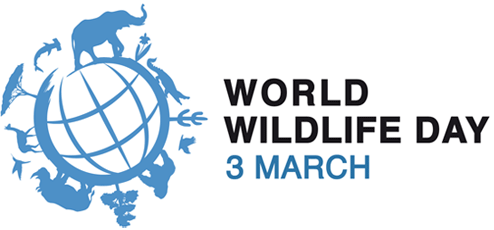 Thursday, 3 March 2016, is United Nations World Wildlife Day! This year's theme is 'The future of wildlife is in our hands'. 
So what can YOU do to help our native wildlife?
Keep your cat indoors.
A US study has recently shown that free-ranging pet and feral cats in the US kill 2.4-12.3 billion mammals per year. No similar large studies have been done on the impact of cats in Australia, but an Australian Wildlife Conservancy study has found that any one feral cat takes 5-30 animals a night. With an estimated 15 million feral cats in Australia, that amounts to 75 million native animals killed daily.
Feral cat control is probably not something you can deal with... but you CAN take responsibility for your own pet cat. Keep your cat indoors, or let him or her outside in a cat run or on a harness. If you do allow your cat to go outside, make sure they have a collar with a bell. Desexing also helps, as cats are less likely to roam if they are neutered and, more importantly, it stops us ending up with more unwanted cats who turn feral and eat our native wildlife to survive.
Read more at the Australian Geographic website and the Australian Government Department of the Environment website.
Do what you can to reduce the impact of invasive species.
Following on from the previous section on cats (which are an invasive species), there are other ways you can reduce the impact of plants and animals that are present in areas where they don't naturally occur.
For example, in Queensland and other northern states, cane toads are a massive problem. They are poisonous to most native predators, eat just about anything that gets in their way, and successfully out-compete native animals for habitat. For the latest information on humane culling methods, visit the RSPCA website. For more general (but detailed) info on cane toads, check out the Australian Government Department of the Environment website.
Report sightings of pest animals such as wild dogs, foxes, goats and deer to your local Council. On the Sunshine Coast you can do this here.
You can remove invasive weeds from your garden and prevent them spreading. The Australian Government Department of the Environment website has some great advice on how to do this, including disposing of green waste responsibly, checking your existing plants, removing weeds and maintaining a weed-free garden.
Many local Councils list invasive weeds with pictures on their websites. The Sunshine Coast Council has a great resource page on weeds, and every now and again they run 'weed swap' days where you can take them a bag of weeds and they'll give you a free native plant to put in your garden. Keep an eye on Sunshine Coast Council's Facebook page for the next weed swap.
Bonus shout-out to the Sunshine Coast Council - I'm really impressed with the response they've given when I've sent invasive species reports or queries. They have followed up with a phone call and have been more than willing to share the information I requested.
Build a wildlife-friendly garden.
And, following on from the previous section on weeds... why stop at getting rid of the bad stuff? Introduce some good stuff by building an environmentally friendly garden that provides habitat for your local birds, frogs, reptiles, mammals and even insects! Even just a few simple additions can encourage animals to visit your garden and provide food, water and shelter for native fauna.
The National Foundation for Parks and Wildlife has a great web page on building habitats, and also runs a separate site called Backyard Buddies - a kid-friendly project with heaps of simple tips to transform your backyard into a safe and inviting habitat haven for wildlife. Visit the Backyard Buddies website or Facebook page for more info.
Why not invest in a native stingless bee hive? Native bees, like many other animals, are threatened by habitat loss and they're absolutely vital to our ecosystem. We've had a hive in our backyard for about 12 months now, and we love watching these delightful little creatures going about their business every day. (We haven't done a honey harvest yet, so we're not sure how it tastes... watch this space!)
The Aussie Bee website has heaps of information about native bees, and a list of breeders around Australia from whom you can purchase bees and hives.
Get to know your local snakes.
Snakes are remarkably adaptable creatures, and there's a good chance you might one day see one around your home, especially if you build a wildlife-friendly garden.
Educate yourself about the different types of snakes that live in your area. I'm a big fan of AROD (the Australian Reptile Online Database) - you can browse through all the reptiles in your state, look at a range of photos, find out about behaviour, learn which snakes are venomous, and more.
Find out what options you have if you come across a scaly visitor you'd really rather have removed. Keep the number of a local wildlife rescue group or snake catcher stored in your phone.
Remember, like all Australian fauna, snakes are protected by law. They're an important part of our ecosystem and are best left alone to go about their snakey business. 
Don't stop there!
There are plenty more ways you can help our wildlife, including donating to or volunteering with your local wildlife or conservation organisation; reducing plastic bag use; and never EVER releasing helium balloons. 



Please reload